Are you planning an event and looking for the hot new color trends for 2012 that will make to party look chic? Spring color trends are vibrant, energetic, happy and fresh. You will see a mix of bright neon colors, like Pantone's "Cabaret" mixed with soft pastel like "Margarita" or "Cockatoo", seen in the 2012 Pantone Spring Color Trends.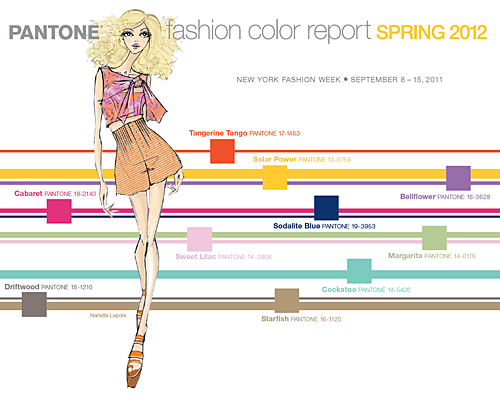 What is Pantone? Pantone is a color standard that designers all over the world use to communicate about color. They also put out color trend forecasts. Here is their Fall color trend forecast for 2012 for those planning a wedding or event in the fall.
This year, "Tangerine Tango" is THE hot color for the 2012. This color is bold and sophisticated but fun and grounding. Orange is seen as a color of "balance" and "harmony" in Asian culture. It feels energizing and warm. Because this color has depth and complexity, it works great for all seasons.
How will this translate to your food, dessert and cake?! Make your dishes have bold color naturally by adding lots of fresh fruit or vegetables.
I love this fun photograph by French art director Emilie Guelpa. Guelpa created the tarts for French food magazine Fricote.
Fondant cakes can be covered with a bright color like my favorite… Tangerine Tango, to make as statement and add a punch of color. Now, the whole cake does not need to be colored bright pink or orange. You can just add brightly colored flowers or a sash of color. This will add style to your event. You see an example of this on our cake below. We used tones of "Cabaret" for an inspiration on the sash.
Don't be afraid to use color; especially all you brides out there! As a wedding cake designer, I see more and more brides wanting to use bright colors as an accent to their wedding cake. It makes your wedding more personalized and memorable.
Photo credit for Heather Barranco's G Cake: Ryan Brenizer Photography, www.ryanbrenizer.com